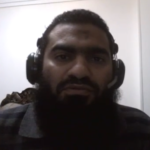 A scholar of the recitations of the Qur'an, Shaikh Ahmad has ijazahs in the agreed upon recitations of the Qur'an, including Warsh, Qaloon, Duri, Susi, Hafs, Shuba, ibn Amir, Kisaai, Khalf and also in the way of Durar. He also holds certificates in teaching the Qaidah Nooraniyya (beginners), the tajweed text Tuhfatul Atfaal (advanced) and Muqaddimatul Jazariyyah.
I'd like to offer a free Qur'an class for my readers, in partnership with Qutoof Academy.
Step 1 – Select a Time
Please select a time slot that is suitable for you by clicking here.
Step 2 – Join the Skype group
Join the Skype group to get in touch with your teacher by clicking here.
Step 3 – Attend session!
Show up to your session on time and learn how to read/memorize Qur'an 🙂
---
Sheikh Ahmed is not only a knowledgeable instructor but also very organized with his lessons – using multiple resources, writing his own summaries when necessary, keeping record of my progress, scheduling objectives and lovingly admonishing me when I fall short.
Sunie Nizami
---